For a limited time only, we are offering free amendments on all of our ready-made house designs as part of Free Upgrades February. Watch the video to see how it works, and how you can make the most of it.
[embedyt] https://www.youtube.com/watch?v=S1qJObqKgUA[/embedyt]
How does it work?
Select a house plan you like and purchase it via our secure online ordering system.
Use the secure link we email to you to download the original plan, and amend it however you see fit.
Send it back to us and we will amend the plans and return them for your approval within 10 working days*.
It's as simple as that!
So whether you want to change the wall finishes, doors or windows, make the footprint larger or smaller, add an extension or change the layout, it's all included at no extra cost.
Get in touch today for more information, or browse our range of designs to get started.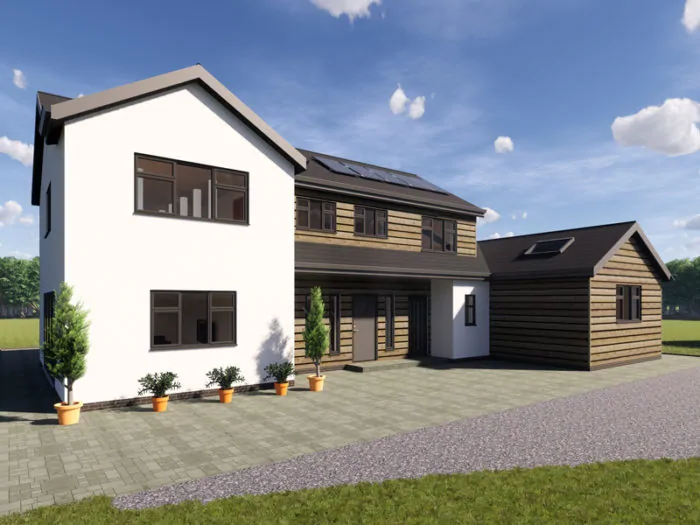 Free Amendments Offer: Terms and Conditions
Amendments allowable within this offer include moving external or internal walls; moving, re-sizing or changing the style of doors and/or windows; reconfiguring roofs to a hipped, half-hipped, gabled, mansard or flat construction; adding dormer windows or skylights; changing external material finishes to walls, roofs, windows, doors and fascias; flipping (handing) the footprint of the house.
The amended design must be identifiable as a variation of the original design in our opinion. Amendments which increase the footprint by more than 50% may incur a small charge.
International designs are not included within this offer as they are provided by our partners who have opted not to participate in this promotion.
Delivery of the amended plans will usually be within 10 working days of receipt of order. In the event that we believe this may not be achievable, we will inform you at the earliest opportunity.
Copyright of all amended plans remains with Houseplansdirect.
Houseplansdirect reserves the right to change or withdraw this offer at any time without notice.