Our top five house plans for small plots.
Bigger doesn't always mean better – these house designs were all meant for a little life. Check out our top five house plans for small plots.
1. THE SOLLARS – small but contemporary and filled with light, this one bedroom home is ideal for a backland plot or as an annexe to a larger home.
With modern styling and tall ceilings, this contemporary one bedroom bungalow design is filled with natural light and makes the most of a smaller site through efficient use of space and clever design. The open plan living, dining and kitchen area benefits from large windows to bring the outside in, with an ample bathroom and utility room also included. Although the standard plan shown here is a contemporary one bedroom bungalow design, we can amend it to a more traditional appearance if you prefer.
2. THE LEOMINSTER – you might think we've lost the plot (pun fully intended) in suggesting a four bedroom home for this feature, but the Leominster somehow fits it all into a footprint of just 6 metres. Perfect for a side garden or end of terrace.
It is ideal for a small plot as it is only 6.00 metres wide. The Ground Floor offers plenty of entertaining space with a light and airy living room leading through double doors into the rear aspect dining room. Adjoining is the ample kitchen, which is also accessible via a welcoming entrance hallway. The First Floor is home to the impressive double Master Bedroom and equally sizeable Bedroom 4, along with a main bathroom and en-suite. Moving upstairs again, we find Bedrooms 2 and 3, along with a further shower room.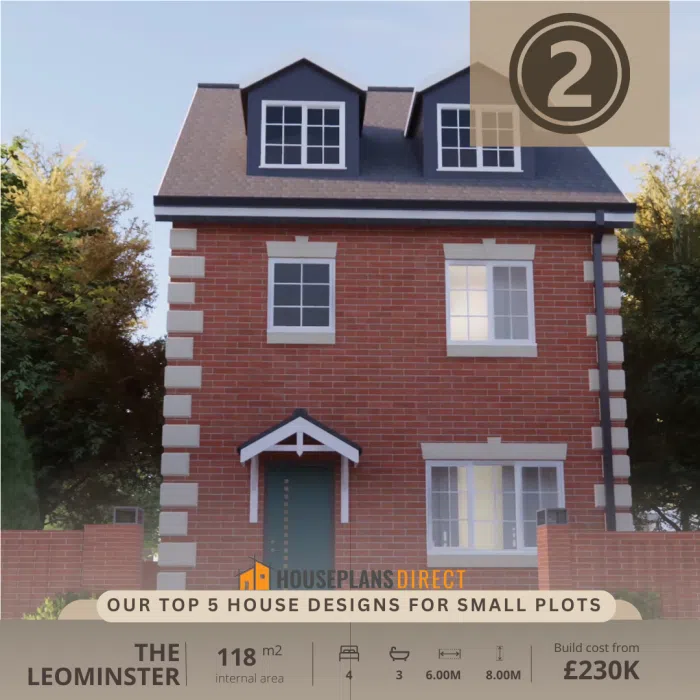 3. THE BEARWOOD – it looks and sounds like something out of a fairytale, but if you're short on space, budget, or both, it might be just right. Could again be an annexe for an elderly relative or young adult.
Whether you're looking to downsize or build a starter home for younger members of the family, this bijou bungalow offers plenty for a couple or single individual. The open plan living and dining area offers ample entertaining space, and the bedroom comfortably fits a double bed and wardrobe with room for additional storage. The bathroom, kitchen and utility are all of a functional size and make intelligent use of the space available.
4. THE HARDWICKE – we may be stretching the definition of a small plot slightly with this one, but with a footprint of less than 10m x 10m and a low ridge height, it would work nicely on an infill site. Four beds and three bathrooms included.
The Hardwicke is one of our compact four bedroom self build home designs which would not look out of place in either a town or countryside setting.
The Ground Floor features two reception rooms, a spacious kitchen / diner and a utility / WC. Upstairs there are four double bedrooms with an en-suite and a main bathroom.
5. THE FAWLEY – often overlooked in favour of larger three-bedroom homes, this one comes in just a fraction over 100m2 and yet comfortably meets the National Space Standards. Not bad when you consider the depth is only just over 8 metres.
The main entertaining areas in the spacious Ground Floor benefit from an open-plan layout, offering sightlines from front to back. A large integral garage also parking and storage space, and there is also a downstairs WC just off the main hallway. Upstairs, Bedroom 1 includes its own en-suite bathroom and walk-in wardrobe. The two other large double bedrooms share the family bathroom and an airing cupboard can be found off the landing.
So, those are our top picks for house plans for small plots. We have other designs which would also work, but a few of them featured in our best seller post the other day, and where's the fun in that? Here's to the lesser known little marvels.
And if none of these designs light your fire? You can browse all of our collection right here and find something you love.